Senior living has several lifestyles to choose from, including assisted living, independent living, and memory care. Each provides a different level of care, but what is memory care, and how can it benefit your loved one?
Continue reading to learn more about memory care, including what it is and the unique support it provides.
What is Memory Care?
Memory care provides a safe environment designed to relieve stress for older adults with Alzheimer's disease or another form of dementia. Living alone can become difficult for someone with dementia; this disease affects the ways your brain cells communicate with each other.
These changes to your brain lead to a decline in your cognitive abilities. As this disease progresses, it can impact someone's daily life and their ability to live independently.
Dementia affects more than your loved one's memory; it can affect their thinking, behavior, relationships, and feelings. When someone can no longer live independently, memory care can help ease their troubles by offering 24-hour care and a supportive community.
How Can Memory Care Help?
Memory care offers guidance and support for residents throughout their day. Trained and certified staff members are available whenever your loved one needs help. This training includes identifying their level of support, which may include daily assistance with:
Mobility
Dressing
Eating
Bathing
Managing medications
All residents receive a customized care plan to meet their daily needs. If your loved one requires more assistance or needs change, the care plan will adapt to meet them.
Besides care for residents, what does this lifestyle provide?
What Does Memory Care Provide?
Memory care provides seniors with specially trained staff who can help identify the unique needs of each resident. This training focuses on a dedication to:
Building relationships within the community
Providing personalized care plans
Providing effective dementia care
Promoting each resident's best quality of life
Besides this training, there is a commitment to consistently improve the quality of the community and always be available when your loved one needs support. This lifestyle offers several ways to live comfortably in the community and enjoy life.
Services & Amenities
Your loved one has access to several services in memory care, including:
Housekeeping
Laundry services
Health & wellness programs
Social, recreational, spiritual, & educational opportunities
Regular physician visits
24-hour onsite staff
Continuous wellness checks
Medication administration
Group activities
Memory care also provides many amenities for residents to take advantage of, such as:
Community & socializing rooms
Private dining probably not
Whirlpool spa
Fitness center
Courtyard seating
Library
These services and amenities can help residents meet their needs in a memory care community. Memory care apartments are simple to navigate with customizable features if your loved one's needs change. With kitchenettes and covered utilities, residents have everything they may need to feel at home.
If you're interested in senior living, you've likely heard of assisted living as a potential option. When making a final decision, what's the difference between these two lifestyle options?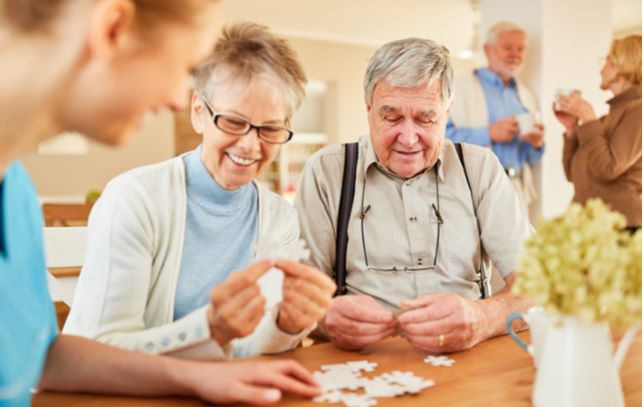 What's the Difference Between Memory Care & Assisted Living?
While memory care and assisted living both provide residents with continuous support, they have varying levels of care.
Assisted living is a lifestyle designed to help older adults experience life to the fullest. It's ideal for someone who can struggle with daily tasks, such as getting dressed, cooking and eating, or hygiene. Support is always available, but only when residents feel they need help.
Memory care is a more supportive lifestyle because residents typically require more consistent help. Dementia can make completing daily tasks difficult. Older adults may need assistance with many activities of daily living, such as eating, dressing, walking, and personal hygiene.
The average day in a memory care community is structured to reduce potential stress and promote safety. Having a lifestyle that residents can predict and easily manage is beneficial for proper sleep and a peaceful state of mind.
If you're thinking about senior living for your loved one, how do you know if memory care is the best option for them?
Know When Memory Care is a Good Choice
Dementia, especially Alzheimer's disease, can develop slowly.
You may not notice your loved one has any issues at first, making it difficult to know when they may need more consistent support. Keeping an eye out for noticeable signs can help determine when memory care is the best choice.
Memory care may be a suitable option for your loved one if:
They have memory or cognitive challenges
They cannot safely live at home anymore
They have a history of wandering
They are at risk of injury while living alone
They struggle with stress & anxiety while living alone
Dementia can make life more difficult, but memory care can help make it easier. With 24-hour care, support staff can identify the help your loved one needs. With several services and amenities, they can enjoy new experiences and make connections.
If you're interested in memory care, contact your local senior living community today.